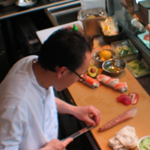 Stewart Chen
is a renowned owner and executive chef with an impressive culinary career spanning several decades. Originally from Kuala Lumpur, Malaysia, Chen arrived in the United States in 1988 and began his culinary journey. With three successful Bay Area restaurants under his belt, Chen's expertise and entrepreneurial spirit have earned him the admiration of diners and critics alike.
Prior to his role as a chef and restaurant owner, Chen honed his culinary skills in various restaurants and hotels. He started from humble beginnings at Suisha in 1990, working as a dishwasher and learning the operational functions of the restaurant from the ground up. Under the guidance of the executive chef, Chen mastered the art of preparing sushi and Japanese-style dishes, and gained a strong foundation in Japanese cuisine.
Chen's experience expanded when he became the chief sushi chef at the San Francisco Marriott's Kinoko restaurant in 1995, and later joined the culinary team at the San Francisco Sheraton Palace Hotel in 1996. Exposure to the hotel business and working with world-class chefs further enhanced Chen's skills in California fusion cuisine.
In 1999, Chen opened his first restaurant, Amberjack Sushi, in the Noe Valley. He introduced and fine-tuned his unique California-style by layering textures and flavors based on his Japanese and American culinary experience. In 2004, Chen expanded his culinary empire with a family-style Amberjack Sushi in Mill Valley, California. Always in tune with the trends, Chen envisioned a modern bistro-style Japanese sushi and sake bar on Union Street and opened Skipjack Sushi in 2006, catering to both local and visiting sake and sushi lovers.
With the birth of his daughter on the way, Chen decided to partner with Russell and Shamus to open Umi in 2008, where his emphasis on taste, freshness, and artistic presentation continue to delight diners.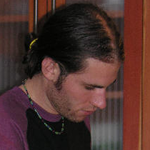 Shamus Booth
hails from Royal Oak, Michigan, and has a natural inclination towards creative and mechanical pursuits. With years of experience fixing and building things, Shamus worked alongside his father from a young age and became a licensed plumbing, heating, and mechanical technician just before turning 20. He then put his energy into a full remodel of a small house in Ann Arbor, where he gained invaluable experience that would help him construct anything he could imagine.
After establishing his own high-end construction business in San Francisco, Shamus was called upon by his friend Stewart Chen in 2006 to renovate a newly purchased restaurant space. Together, their shared vision for aesthetic and functional simplicity resulted in a modern and stunning restaurant design. Stewart later enlisted Shamus again to partner with him on the renovation of another restaurant in 2007, which resulted in the opening of Umi in early 2008. Shamus' passion for music and art is also evident throughout the restaurant.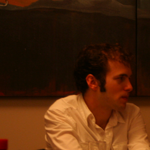 Russell Richardson
is an accomplished entrepreneur and technology consultant, with a wealth of experience in the computing industry. Raised on a 20-acre farm in Ann Arbor, Michigan, Russell was exposed to the world of economics and agriculture from an early age. His mother, an esteemed econ professor, cultivated a love of gardening in Russell, who spent many summers hauling manure to the garden and selling vegetables at the local farmers market.
After obtaining a Bachelor's degree in Computer Science from the University of Michigan, Russell moved to San Francisco to begin his career in computing. However, after four years in the corporate world, Russell became restless and returned to his love of the arts, taking classes in theater and exploring the diverse culinary scene of San Francisco. Eventually, this led to Russell quitting his corporate job and starting his own software consulting business.
In 2007, Russell was approached by Stewart and Shamus to help with the opening of their new restaurant, Umi, which quickly became a staple in the San Francisco dining scene when it opened. In 2015, Russell relocated to Maryland where he pursued his passion for brewing beer and roasting coffee. While these skills are not currently incorporated into his work, Russell's diverse background and willingness to explore new fields may lead him to utilize them in the future.
In 2020, Russell made another move, this time to the beautiful island of Kauai, where he is now focused on
Techne Futbol
and raising his four children. With a diverse background in computing, agriculture, and the arts, Russell brings a unique perspective to all of his endeavors.